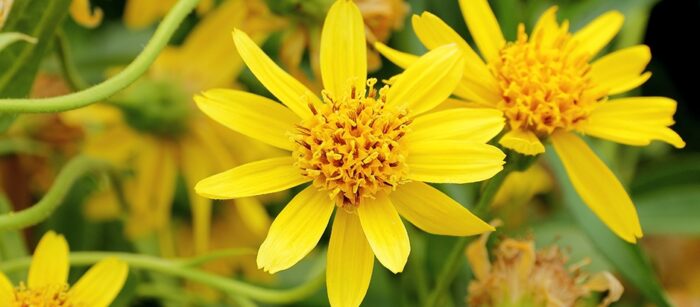 Folk remedies suggest that Arnica flower extract is effective in preventing various diseases, by taking it at the first sign of illness. Arnica, also commonly called mountain tobacco or leopard's bane, has been used to help minimize the effects of tissue trauma and to assist the healing process. It helps to regenerate the tissue and is suitable for the treatment of all injuries resulting from impact, falls, stabs and cuts. It has been used topically for a wide range of conditions including bruises, sprains, muscle aches, wound healing, contusions, acne, superficial phlebitis, rheumatic pain, inflammation from insect bites and swelling due to fractures. It is possible that this herbal tincture can speed up the healing process after surgical procedures and as an anesthetic to reduce the pain during surgery, even dental procedures. Arnica has also been used internally to reduce cholesterol.
Arnica flower extract is known for its ability to speed the healing of tissues by improving blood circulation and helping the oxygen to get to the cells quicker. Used topically, it is touted as an excellent way to speed up the healing of bruises and sprain, and it is used as an alternative treatment for sports related injuries of this type. It prevents bruising by stimulating the white blood cells and dispersing trapped blood and fluid from the site of the injury. Arnica is an effective treatment for sprains, muscle and joint pain that is generally aggravated by movement and alleviated by rest. Today, doctors are recommending it to their patients for reducing post surgical bruising and to athletes to soothe sore muscles because Arnica helps speed the healing process by moving waste-bound fluids out and moving cleansing fluids and platelets into the affected area. Arnica is also used following an accident or a shock, as well as for illnesses of venous or arterial systems.
Arnica can also be used externally to prevent tired, overstressed muscles. One study showed that marathon runners who applied Arnica to their skin before the event experienced less pain and stiffness afterward. Arnica is a relaxing addition to the bath, and has been shown to be particularly helpful for soaking tired, aching feet.
Trauma to muscles through exertion or injury has found a remedy through the application of Arnica. After pregnancy, women may find relief in the herb, especially for stomach muscles. This multi-dimensional herb may even help emotional trauma and depression as well as poor blood circulation and incontinence. Arnica flower tincture has been used for vertigo, migraines and tension headaches, as it has recognized sedative effects that relieve pain and relax muscles. 
Arnica has been used for centuries because of its ability to cure wounds, heal inflammation and decrease pain. Arnica, in a cream, is also used to treat the pain and inflammation resulting from carpal tunnel syndrome, joint pain and arthritis. It has also been used to relieve back pain and abdominal pains. 
Arnica's antibacterial and anti-inflammatory effect may be of some benefit to those with inflammatory skin disorders. This herb is traditionally used as a topical treatment for burns, eczema and chapped lips. Arnica is good for irritated nostrils and is popular for its ability to treat acne. Arnica should not be applied to an open wound, as it could cause painful irritation. Medications from this plant are often thought of as preferential treatments for leg ulcers in diabetic patients.
Arnica has also been used as an herbal remedy for certain heart disorders. It is used internally to reduce cholesterol and is known to stimulate blood circulation and can raise blood pressure, especially in the coronary arteries. People with high blood pressure or heart disease should consult their healthcare provider before using Arnica.
Arnica stimulates circulation and the immune functions of the mucous membranes. It also has anti-inflammatory, antibacterial, decongestive, and antifungal properties. It eliminates micro-organisms and keeps bacterial and pathogenic funguses from multiplying. It has been used in the treatment of bronchitis, viral infections, lung cirrhosis, cystitis, nephritis and even kidney infections. 
Arnica tincture is useful for treating infections of the throat, such as pharyngitis and tonsillitis, and can be applied to the skin to treat a sore throat. It is also used as a gargle for mouth and gum infections. Folk remedies suggest that Arnica is effective in preventing various diseases by taking it at the first sign of illness. It has been an effective herbal treatment for bacterial infections, including salmonella and listeria.  can also be applied to the skin to treat a sore throat.
Arnica is often used for hair care because of its anti-inflammatory properties which can control dandruff and promote hair growth. Arnica extract can be safely used on hair at a concentration of 1 to 2 percent. A hair rinse prepared with Arnica extract has been used to treat alopecia neurotica, an anxiety condition leading to hair loss. This herbal tincture acts as an antibiotic which can help treat infection on the scalp. The use of Arnica in hair treatments rejuvenates the scalp and also stimulates the hair follicles, which in turn will strengthen the hair and keep it from falling out prematurely. Arnica herbal extract may also prevent premature graying of the hair. 
Arnica tincture is sometimes recommended by homeopathic practitioners to treat motion sickness, seasickness and seizure disorders, however, if consumed in large amounts it can be toxic. Signs of toxicity are vomiting, weakness, increased heart rate and nervous disturbances.
Contraindications:
Arnica is generally safe when used topically (externally). However, prolonged use may irritate the skin, causing eczema, peeling, blisters, or other skin conditions. Arnica should not be used on broken skin, such as leg ulcers. Also, people who are hypersensitive or allergic to the herb should avoid it. Arnica, taken internally, may 

cause dizziness, tremors, and heart irregularities. It may also irritate mucous membranes and cause vomiting. Do not take more than the recommended dose as large doses may be fatal. If you are pregnant or breast-feeding consult your heath provider before taking any medication, including herbs. When used topically, Arnica does not interact with any conventional medications.
Disclaimer:
 The information presented herein by
New Way Herbs
is intended for educational purposes only. These statements have not been evaluated by the FDA and are not intended to diagnose, cure, treat or prevent disease. Individual results may vary, and before using any supplements, it is always advisable to consult with your own health care provider.